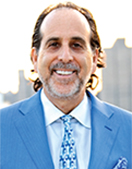 Drew Findling is a Past President of NACDL and current trustee of the NACDL Foundation for Criminal Justice. Mr. Findling's practice, The Findling Law Firm, P.C., focuses exclusively on federal and state criminal defense and he tries cases ranging from matters involving complex white-collar crimes to serious violent felonies. Mr. Findling spent the first three years of his career as a Fulton County, GA public defender. Over more than 30 years, he has represented clients in state and federal courts across the country, as well as in international matters.
As a public defender, he was a leader in developing the battered woman syndrome defense. Nationally, Mr. Findling was the first attorney to successfully employ that defense based exclusively on verbal abuse. For his efforts, the Georgia Association of Criminal Defense Lawyers (GACDL) awarded him their Indigent Defense Award. In recent years, he has successfully represented a string of well-known clients including: Dennis Rodman, Shaquille O'Neal, Grammy Award Winner Cardi B, Grammy Award Nominee Faith Evans, Emmy Award Winner acter/comedian Katt Williams, actor/comedian Mike Epps, Hip Hop superstars Gucci Mane, Waka Flocka Flame, and Offset, Quavo and Takeoff from the Grammy-nominated group Migos, Da Baby Boosie, Trippi Red, Lil Baby, Boogie Wit Da Hoodie, and Jim Jones. Mr. Findling has also represented Morris Brown College President Dolores Cross, Fulton County Sheriff Jackie Barrett, and, in the highly publicized public corruption trial of Clayton County, GA Sheriff Victor Hill, Mr. Findling won an acquittal of all charges in the 37-count indictment. For his effort on behalf of Sheriff Hill, Mr. Findling received the NAACP's Civil and Human Rights Award and a commendation by the Legislative Black Caucus of Georgia. He also secured a non-prosecution agreement for the long-serving District Attorney of Douglas County, GA, David McDade.
Mr. Findling is a member of the American Board of Criminal Lawyers, the Georgia Association of Criminal Defense Lawyers, and the American Bar Association. Findling also serves on the Board of Advisors for the prestigious National Clearing House on Science and Technology of Law. Due to Mr. Findling's success in Jury trials, appeals, and post-conviction work, he has been named as one of Georgia's Legal Elite in Georgia Trend Magazine, Atlanta Journal-Constitution's Top Lawyers in Georgia and as a Georgia "Super Lawyer" by Atlanta Magazine and one of the Best Lawyers in America© for 2018 in the area of criminal defense. Stating he has also recently been recognized by the Hollywood Reporter as a Power Lawyer and one of the Hollywood Reporter's Top 20 Troubleshooters. in Addition, Billboard Magazine has recognized him as one of the Power Players in the R&B and hip-hop industry.
Mr. Findling is a Life Member of The National Association of Criminal Defense Lawyers ("NACDL"). Mr. Findling joined the Association in 1988 and has served multiple terms on the Board of Directors. His commitment includes service as chair of multiple committees related to forensic science, chair of the Membership Committee, and as co-chair of the Discovery Reform Committee. He also served as a member of NACDL's Nominating Committee and National Forensics Litigation College Advisory Board. Mr. Findling was the 2018 recipient of the prestigious Robert C. Heeney Memorial Award, which is given to one criminal defense attorney in the country each year by NACDL.