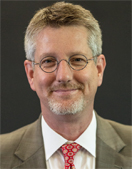 NACDL past president Chris Adams is a partner in the criminal defense law firm of Adams & Bischoff, L.L.C. in Charleston, SC.
Before starting his own practice, Adams was a public defender and non-profit lawyer for 15 years. From 2004-2007 he was the founding director of the Georgia Capital Defender, a public defense office defending indigent clients accused of capital murder. During his tenure, the office resolved 40 cases without a death verdict. From 2000-2004, Adams was a staff attorney at the Southern Center for Human Rights in Atlanta, where he defended people facing the death penalty throughout the Deep South. From 1992-2000, he was an assistant public defender in Charleston, SC.
Adams is a Life Member of NACDL and began serving on the Board of Directors in 2004.
He is also a faculty member at the National Criminal Defense College (NCDC), a co-founder and faculty member at the National College of Capital Voir Dire, and has taught as an adjunct law professor at several law schools. Adams is recognized for Criminal Defense in South Carolina by Superlawyers (2016-present).