Page Hero

COVID-19 & 6th Amendment
"Our constitutional rights are not suspended during a crisis. On the contrary, during difficult times we must remain the most vigilant to protect the constitutional rights of the powerless. Even when faced with limited resources, the state must fulfill its duty of protecting those in custody."
- Judge Stacie Beckerman, Oregon
The ongoing COVID-19 pandemic continues to disrupt and dramatically reshape this nation's criminal legal system. In addition to the widespread outbreaks facing jails and prisons as a combined result of lack of social distancing, adequate protective gear, and healthcare services, court systems are struggling to balance the competing interests of justice and safety. From pioneering virtual hearings and jury trials to navigating court backlogs that threaten the right to a speedy trial, court administrators, judges, lawyers, and defendants alike have been forced to reimagine many of the ways in which they typically operate.
Although vaccine distribution is in full swing across the country and the world, the lasting impacts of COVID-19 on the United States' court system are far from over. With new practices in place for virtual testimony and trial by Zoom, the pandemic has forced the courts to rethink completely the ways in which they operate.
---
Jump to:
Issue Areas Featured Events Featured Resources
---
ISSUE AREAS
Each of the following pages contains a description of COVID-19's impacts on a subset of the courts and the Sixth Amendment, approaches to mitigating those impacts, and additional resources and considerations for practitioners, courts, and advocates.
Topics covered: court backlogs; speedy trial violation concerns
Topics covered: benefits and challenges of virtual trials; the resumption of in-person jury trials
Continue reading below
Topics covered: jury selection and eligibility during the pandemic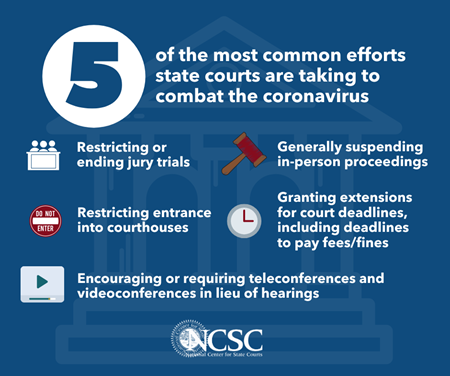 ---
FEATURED EVENTS
Remote Justice: International Perspectives on Video Court​ (Center for Court Innovation, April 29, 2021)
COVID-19 forced courts across the globe to close their physical doors and rely exclusively on video technology for most court proceedings, and numerous countries are considering video as a permanent fixture. On April 29, 2021, panelists from around the world came together for a discussion about the past, present, and future use of video in criminal courtrooms around the world.
Preserving the 6th Amendment: The Right to a Speedy Trial Amid Court Closures & Re-Openings (NACDL, NSCS, RTI & APA, September 3, 2020)
The Sixth Amendment guarantee to a speedy trial is a cornerstone of the American criminal legal system. As judges, prosecutors, and defendants begin to navigate the aftermath of long periods of court closures and the resulting backlog of cases, stakeholders face new questions and challenges in meeting obligations to community health and safety while also protecting core constitutional rights. On September 3, 2020, panelists participated in a discussion on the speedy trial right generally, offering a variety of perspectives on how to meet today's challenges.
---
FEATURED RESOURCES
Coronavirus Resources (National Association of Criminal Defense Lawyers)
The National Association of Criminal Defense Lawyers (NACDL) has built an aggregated list of its statements and messages; motions, pleadings, rulings, and other court papers related to COVID-19 and at-risk clients; advocacy letters on which NACDL is a signatory; various resources from across the criminal justice community; and news of interest on the intersection of criminal justice and the coronavirus. This page will continue to be updated and includes links to additional coronavirus resource pages.
Coronavirus and the Courts (National Center for State Courts)
The National Center for State Courts (NCSC) has compiled a host of resources to support state courts during and beyond the pandemic. This page includes interactive maps that provide state-by-state guidance on conducting virtual hearings, as well as links to state court COVID-19 websites, current jury trial restrictions, and initial emergency court orders.
A State-by-State Look at Coronavirus in Prisons (The Marshall Project)
The Marshall Project is tracking the spread of COVID-19 in state and federal prisons throughout the country. This interactive resource is continuously being updated with data on infections and deaths among both incarcerated individuals and corrections staff.
Coronavirus: The Latest Court Closures And Restrictions (Law360)
Law360 is tracking courts across the country on a state and federal level as they responding to the ongoing pandemic. This resource includes updated records of measures taken by courts to prevent the spread of COVID-19, including restricting access to in-person trials and altering court proceedings.
How criminal justice systems are responding to the coronavirus outbreak (Crime and Justice Institute)
The Crime and Justice Institute has maintained a list of actions taken by courts, elected officials, and department of corrections in response to COVID-19 that affect incarcerated populations. This resource includes media reports, official announcements, and other sources on court orders, reductions in jail populations, decriminalization actions taken by sheriffs or prosecutors, executive orders, and many more efforts to decarcerate.
Explore keywords to find information