Documents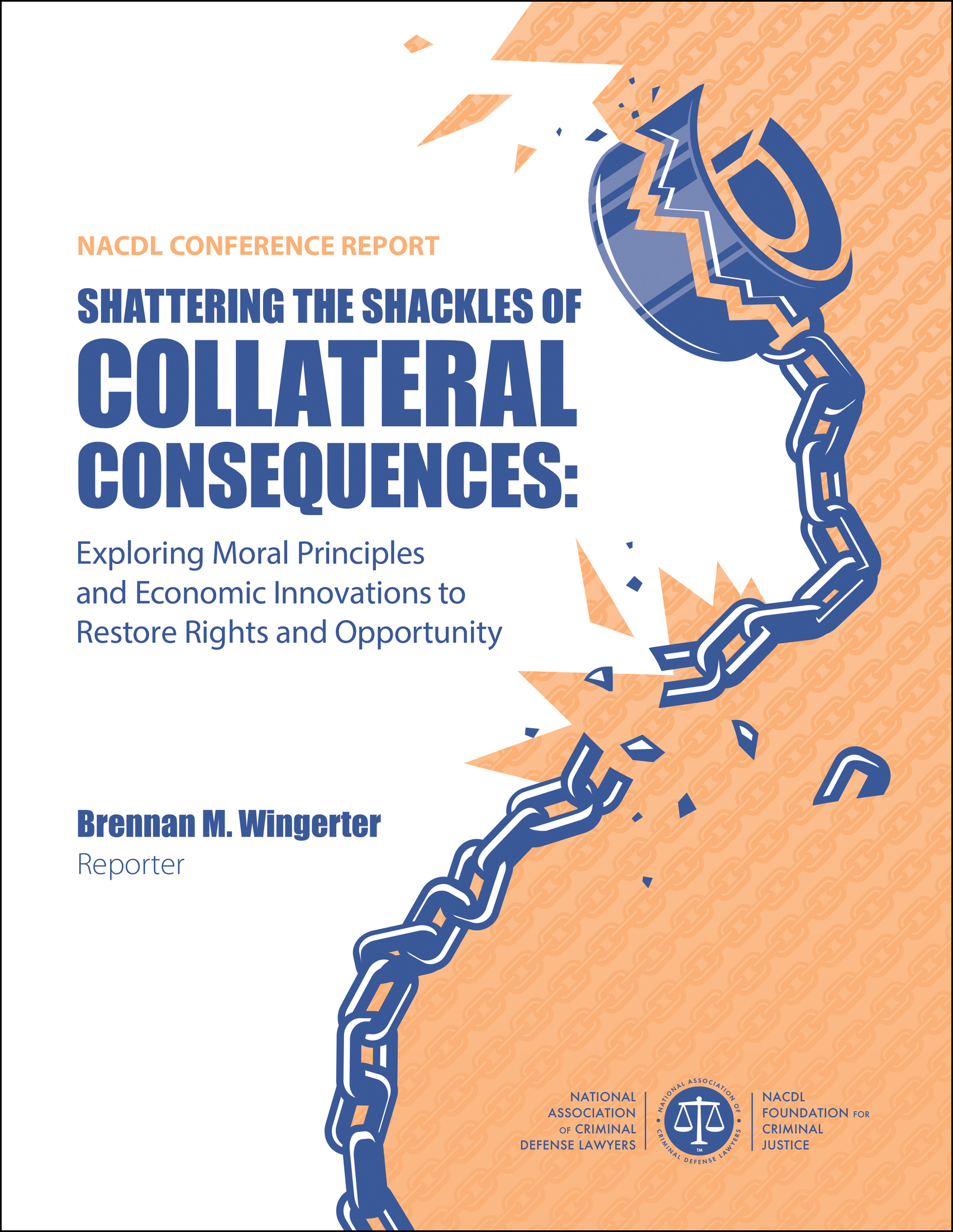 The conference also explored the disparate impact that these collateral consequences have on communities of color. At the same time, the conference highlighted the groundbreaking work that is helping people break free from the shackles while providing a roadmap for national reform. NACDL now releases its report on that conference.
NACDL's 17th Annual State Criminal Justice Network Conference and 2nd Annual Presidential Summit
August 23-25, 2018 | Atlanta, GA

Agenda and videos below | Speaker Biographies | Suggested Materials
Thursday, August 23, 2018

Welcome and Opening Remarks

Angelyn C. Frazer-Giles, Senior Advisor for Special Projects, NACDL and Drew Findling, President, NACDL

Champion of Justice Restoration of Rights Award and Keynote Address

Award presentation by Norman L. Reimer, Executive Director, NACDL

Presented to Sally Q. Yates, Partner, Special Matters and Government Investigations, King & Spalding, Former U.S. Deputy Attorney General

Setting the Stage: Moral and Economic Obligations to Restoring Rights and Opportunity

This panel explores the moral principles and economic innovations that are essential in alleviating collateral consequences of an arrest or conviction. The panel also examines racial implications associated with collateral consequences. Key Issues: ban the box, certificates of relief, tax incentives, licensing

Moderator: Rick Jones, NACDL Immediate Past President and Executive Director, Neighborhood Defender Service of Harlem
Marc Levin, Vice President, Criminal Justice Policy, Texas Public Policy Foundation, Right on Crime
Teresa Hodge, Co-Founder & Director of Strategy & Innovation, Mission: Launch
Mark Holden, General Counsel & Senior Vice President, Koch Industries

Plenary - I Am My Brother's Keeper: Guiding Principles of Re-Entry

This plenary features formerly incarcerated men and women who have successfully re-entered their communities. Panelists will be prompted with themes relative to effectively and efficiently navigate the process of reentry.

Veteran: Christopher Ervin, Founder & President, Lazarus Rite, Inc.
Novices: Dominique "Lil Baby" Jones, Recording Artist and Aspiring Entrepreneur
Randy Lanier, Behavioral Health Technician, Recovery First
Kevin Skidmore, Owner, FourFourtyTrucking, LLC

The Road to Re-entry: Navigating Systems Players and Building Coalitions

This panel focuses on developing relationships with state power players and seeking unlikely and likely allies in building coalitions for lasting and meaningful reforms.

Moderator: Roberta "Toni" Meyers, Director, H.I.R.E. Network
Ngozi Ndulue, Senior Director of Criminal Justice Programs, NAACP
Mary Price, General Counsel, Families Against Mandatory Minimums (FAMM)
Divine Pryor, Executive Director, The Center for NuLeadership on Urban Solutions

Champion of Justice Restoration of Rights Award

Award presentation by Drew Findling, President, NACDL

Presented to Nathan Deal, Governor of Georgia

Forgiving: The Campaign Against the Scarlet Letter

Moderator: Cynthia Roseberry, Vice President for Institutional Advancement & Executive Director of The Center for Entrepreneurship & Innovation, Wilberforce University, and Former Project Director, Clemency Project 2014
Jason Hernandez, commutation recipient from President Barack Obama
John Koufos, National Director of Reentry Initiatives, Right on Crime
Margaret Love, Director, Collateral Consequences Resource Center

Presidential Reception Featuring Comedian Mike Epps

Center for Civil and Human Rights
Atlanta, GA
Friday, August 24, 2018

Criminal Justice Leaders/Authors Panel

This panel features authors of several autobiographical criminal justice related books. Authors read from their books and the discussion focuses on life post incarceration as a leader in the criminal justice field.

Moderator: Nkechi Taifa, Advocacy Director for Criminal Justice, Open Society Foundations
Susan Burton, Becoming Ms. Burton, A New Way of Life
Anthony Graves, Infinite Hope: How Wrongful Conviction, Solitary Confinement, and 12 Years on Death Row Failed to Kill My Soul, Smart Justice Initiatives Manager, ACLU of Texas
Omar Howard, The Omar Howard Story

Forgetting: Alleviating Collateral Consequences Through the Legislative & Referendum Process

This panel will focus on several states that have addressed progressive solutions to alleviating collateral consequences through the legislative and referendum process.

Moderator: Monica L. Reid, Senior Manager for Advocacy, NACDL
Marissa Dodson, Public Policy Director, Southern Center for Human Rights
Desmond Meade, President, Florida Restoration of Rights Coalition
Lee McGrath, Managing Attorney for Minnesota and Senior Legislative Counsel, Institute for Justice

And Justice For All: Voices from Court

Moderator: Divine Pryor, Executive Director, The Center for NuLeadership on Urban Solutions
Dave LaBahn, President and CEO, Association of Prosecuting Attorneys
Judge Shawn LaGrua, Superior Court of Fulton County, Georgia
Stephanie Woodard, Solicitor-General, Hall County, Georgia

Champion of State Criminal Justice Reform Award

Award presentation by Angelyn C. Frazer-Giles, Senior Advisor for Special Projects, NACDL and Michael Iacopino, Co-Chair, State Legislative Affairs Committee, Criminal Defense Attorney, Brennan Lenehan Iacopino & Hickey

Presented to Second Chance Center in Aurora, Colorado, accepted by Executive Director Hassan Latif

This Side of the Law: Reentered, Reformed, & Reinvented

Panel features individuals formerly incarcerated whose second chance led them to pursuing a career in law.

Moderator: Amy Solomon, Vice President of Criminal Justice Policy, Laura and John Arnold Foundation
Jarrett Adams, Attorney, Law Offices of Jarrett Adams, PLLC
Shon Hopwood, Associate Professor of Law, Georgetown Law
Serena Nunn McCullers, Defense Attorney, Atlanta Circuit Public Defenders Office, commuted by President Bill Clinton & pardoned by President Barack Obama

Entrepreneurship and Training: Harnessing Your Power for Success

This panel focuses on existing efforts and strategies to ensure the best outcomes for those who have been justice involved.

Moderator: Michael DiLauro, Director of Training & Legislative Liaison, the Rhode Island Department of the Public Defender (RIPD)
Marcus Bullock, Founder & CEO, Flikshop
Brandon Chrostowski, Founder of EDWINS Leadership and Restaurant Institute and CNN Hero
Tracey Syphax, President and COO of Phax Group Construction & Design LLC, From the Block to the Boardroom
Saturday, August 25, 2018

Faith-Based Conversation

Video of this conversation is not available.

Exploring how the faith-based community can partner with other communities to achieve progressive criminal justice reforms. In addition, how can the faith-community shape policy in a progressive way via protest action, letter-writing, legislative advocacy, etc. The discussion also explores the ideas of redemption and forgiveness in the form of political, economic and social justice policies.

Screening of the Sundance Audience Award The Sentence featuring Cindy Shank released from prison via Clemency Project 2014, followed by a panel discussion

Video of this conversation is not available.

The Sentence tells the story of Cynthia "Cindy" Shank whose incarceration propels her brother to document via film Cindy's daughters as they grow up without her. The story further explores the family bond Cindy maintains with her parents, siblings and children through her brother's relentless advocacy. It culminates with efforts to seek clemency for Cindy via the Clemency Project 2014, an Obama Administration and NACDL initiative.