Documents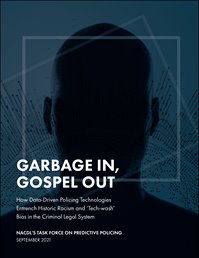 Read the NACDL Board of Directors' Recommendations on Data-Driven Policing.
See more resources on predictive policing from NACDL's Fourth Amendment Center.
Media Coverage
NACDL Releases Major Task Force Report on Data-Driven Policing, Racism, and Bias in the Criminal Legal System, NACDL News Release (September 14, 2021)
NACDL produces notable new report on data-driven policing and racial bias in criminal justice system, by Douglas Berman, LexBlog, September 14, 2021
New Report On Predictive Policing Shows How New Tech Is Giving Us Little More Than The Same Old Racism, by Tim Cushing, Techdirt, September 24, 2021
Supported by NFCJ
The NACDL Foundation for Criminal Justice preserves and promotes the core values of the National Association of Criminal Defense Lawyers and the American criminal justice system.
Support Us Now