Among the activities criminalized by this new law (SB 202) are the following:
Handling a completed absentee ballot application (unless permitted by law);
Opening a sealed absentee ballot envelope if not the voter or other authorized person;
Allowing a person to see a ballot being marked, even if at home and having done so voluntarily, subject to certain exceptions;
Giving water or food to a voter waiting in line to vote;
Intentionally observing another person casting a ballot, unless a child or providing authorized assistance;
Photographing a voted ballot; and
Mailing or delivering to the board of registrars a person's ballot if not a family or household member of that person.
"The United States must not join the league of corrupt and rogue nations where the criminalization of ordinary and harmless conduct associated with the exercise of the fundamental constitutional right to vote is used as an instrument to further the political fortunes of any candidate or political party."

NACDL President Christopher W. Adams (2020-2021)

To join the strikeforce to defend those arrested or charged under this law, watch the training below and join the Georgia Voter Defense Project to defend those arrested or charged under this law. Sign up below and you will be added to the list of attorneys standing ready. You will be contacted as cases become available.
View the training video to learn more
This is a sponsored ad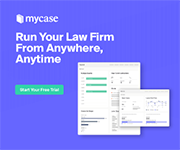 MyCase
Manage Your Law Firm All in One Place