How to Keep it Confidential: Get Equipped to Encrypt
Defense lawyers regularly use phone calls, texts, and emails to communicate with clients, investigators, witnesses and others associated with their cases. Many of these communications are privileged, yet government surveillance programs can capture and store them. This webinar explored how this happens, and how defense lawyers can keep their communications out of government hands.
This webinar from March 29, 2016 featured Jack Gillum, senior reporter at ProPublica based in Washington, D.C., covering technology and privacy, Neema Singh Guliani, senior legislative counsel with the American Civil Liberties Union Washington Legislative Office, and Harlo Holmes, Director of Newsroom Digital Security at Freedom of the Press Foundation.
This is a sponsored ad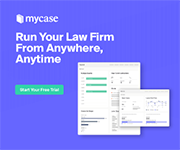 MyCase
Manage Your Law Firm All in One Place