New York
In April 2019, New York enacted a major overhaul of the state's criminal discovery rules (effective 2020). See bill text here. Previously, New York was considered among the worst states in terms of access to evidence and information by the accused pre- trial. The new rules call for disclosure well before trial. Under the newly-adopted changes, individuals will also have the right to review information and evidence held by the prosecution no fewer than three days before the deadline to accept any plea offer, a significant improvement in the law.
Virginia
On September 5, 2018, the Supreme Court of Virginia issued amended criminal discovery rules, originally set to take effect July 1, 2019, marking the first such overhaul in decades. Specifically, the Court amended Rules 3A:11 (Discovery and Inspection) and 3A:12 (Subpoena) of the Rules of the Supreme Court of Virginia. The amended rules provide far greater pretrial disclosure by prosecutors, including the inspection and review of police reports and statements of co-defendants and alleged co-conspirators that are sought to be introduced at trial. The amended rules also create mutual obligations on the defense and prosecution relating to the exchange of witness lists and expert witness information.
Since 2015, NACDL has worked with its state affiliate, the Virginia Association of Criminal Defense Lawyers (VACDL), and other groups and individuals seeking discovery reform in Virginia, including Justice Forward Virginia, the Charles Koch Institute, the Innocence Project, the Mid-Atlantic Innocence Project, New Virginia Majority, legislators on both sides of the aisle, including Senate sponsor Bill Stanley, and numerous attorneys across the Commonwealth. These efforts included public education and community events, legislative lobbying, and grassroots campaigns. For more information on NACDL's criminal discovery reform efforts in Virginia, listen to episode 59 of The Criminal Docket podcast.
California
On October 3, 2015, Governor Jerry Brown signed into law AB 1328. See bill text here.This law provides judges with the tools to combat prosecutorial misconduct by requiring judges to notify the California State Bar when there is a finding of a Brady violation; giving judges the discretion to disqualify an individual prosecutor from the underlying case when there is a finding of a Brady violation; and by giving judges the discretion to disqualify an entire prosecutor's office when there is a finding of a systemic practice of violations, similar to issues raised in the Orange County District Attorney's office.
Texas
SB 1611 was signed into law by Gov. Rick Perry on May 16, 2013. See bill analysis here. Also known as the Michael Morton Act, after the man who spent 25 years in prison before being exonerated in 2011 for his wife's 1986 murder, the bi-partisan law aims to reduce wrongful convictions by ensuring that all relevant evidence that speaks to a defendant's innocence or guilt is revealed. SB 1611 ensures that offense reports and written or recorded statements of the defendant and witnesses are disclosed to the defense. The law also removes the barrier of having to show 'good cause' before gaining access to evidence, and requires prosecutors to promptly disclose favorable evidence uncovering during and after trial. Prosecutors had sought reciprocal open discovery, but the defense bar successfully argued that requiring reciprocal discovery could violate a defendants' rights against self-incrimination.
Louisiana
Louisiana passed HB371, an Act Relative to Discovery Reform, on June 12, 2013. See engrossed bill here. Prior to the passage of HB 371, the defense was given access to evidence that was considered favorable or material to the trial. Many appeals were filled as a result of disagreements over what should be considered favorable or material. HB 371 eliminates the potential for arguments by requiring that law enforcement turn over all witness statements and police offense reports, regardless of whether they are considered inculpatory, exculpatory, favorable, or material.
Ohio
Ohio amended Criminal Rule 16 in 2010 to include "open discovery" rules. The rules required the prosecution to share all exculpatory information to the defense. If the defense sends a discovery request, the defense has a "reciprocal duty of disclosure" to share their files with the state, even if the state never asked for them. Also, the prosecution is allowed to mark certain documents as for defense counsel eyes only. The Ohio Disclosure Rules are available here.
North Carolina
In 2004, Governor Mike Easley of North Carolina, signed into law a bill that requires prosecutors to share files in all felony cases. The discovery statute requires district attorneys to share their investigative files in felony cases to defense lawyers who request them prior to trial. The law requires that investigator notes, defendant and witness statements, test results and a list of probable witnesses for the trial be included in the files from the prosecution. The defense is also required to turn over such things as the state with witness lists and details about the grounds on which they plan to defend their client. The North Carolina Disclosure Statute is available here.
This is a sponsored ad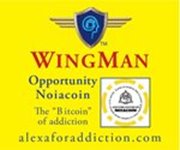 WingMan Opportunity Noiacoin
The "Bitcoin" of addiction