Access to The Champion archive is one of many exclusive member benefits. It's normally restricted to just NACDL members. However, this content, and others like it, is available to everyone in order to educate the public on why criminal justice reform is a necessity.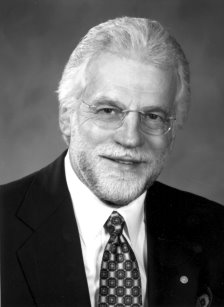 Minneapolis, Minnesota, attorney and NACDL Past President (1984-85) Ronald I. Meshbesher passed away on June 13, 2018. He was 85 years old.
Meshbesher was the founder and president of Meshbesher & Spence, a Minnesota firm specializing in personal injury, class action and civil litigation, in addition to criminal defense. He gained a respected reputation in several important criminal cases in Minnesota, including the Piper kidnapping case (still on FBI record as the largest unsolved kidnapping case), the Elizabeth Congdon murder trial, and the Ming Sen Shiue murder and kidnapping case.
His professional success led the Minneapolis Star Tribune to dub Meshbesher the "dean of the Minnesota criminal defense bar for 45 years."
Remembrances from NACDL Colleagues
"Minnesota is a long way from Texas. Nevertheless, for as long as I can remember Minnesota had a reputation for turning out some of the finest litigators in the country, and Ron Meshbesher was a goliath among them. When Frank Maloney took me to my first NACDL meeting so long ago, he introduced me to Ron, and I was immediately struck by his strength, candor, and gentle ability to lead the strong-willed and bullish colleagues that made up our organization. Over the many years since, in every courtroom, boardroom or barroom he set foot, Ron continued to set a rare example of the best and brightest of our profession. He never ceased to earn the esteem and respect of every one of us who has been blessed by his generosity and kindness. Godspeed, Brother." — NACDL Past President Gerald H. Goldstein
"It seems like every time I met a person — whether lawyer or lay person — from Minnesota, I would ask, 'Do you know of my friend Ron Meshbesher?' I always got responses along the lines of, 'You know him?' 'He is the most famous lawyer in Minnesota!' 'He is a fabulous lawyer!' Ron was a kind, gentle, modest man and lots of fun. I am honored to have known him and am privileged to have had him as a friend. I close my eyes and see his smile and the glint of his twinkling eyes. I miss him a lot." — NACDL Past President John Henry Hingson III
"Ron took me on a tour of the pathways through downtown Minneapolis one day. I remember how thoughtful he was to take this time to spend with me. He was kind, generous and always available when needed. A truly good man." — NACDL Past President Nancy Hollander
"Ron Meshbesher was a giant in the criminal defense field in Minnesota and became president of NACDL at a critical time in its existence. The move to Washington, D.C., and the hiring of a full-time executive director were big steps that were taken when he was president. In addition to being a lawyer's lawyer, he was a frequent lecturer at NACDL conferences." — NACDL Past President Bruce Lyons
"Ron was one of the most respected attorneys by his fellow lawyers for his leadership and ethical qualities." — NACDL Past President Frank Maloney
"I was on the Executive Committee when Ron was president in 1984-85, so I had the pleasure of working with him. He was one of NACDL's finest leaders and one of the nation's finest lawyers. He leaves a great legacy for his superb trial skills, his gentlemanly demeanor, and his high ethical standards. Ron will be missed." — NACDL Past President Neal R. Sonnett
After graduating from the University of Minnesota Law School, and prior to starting his private practice in 1961, Meshbesher began his career as a prosecutor in the Hennepin County Attorney's Office when he was 24 years old. He tried 45 felony cases in his first three years and had a 92 percent conviction rate. Over his career, Meshbesher tried a litany of civil cases as well, where he earned significant settlements and verdicts for his clients.
Meshbesher had a keen interest in the Sixth Amendment. Indeed, during his presidency from 1984 to 1985, Congress passed significant legislation impacting the attorney-client relationship, such as the IRS cash reporting requirement, which included reporting names of parties involved in cash transactions over $10,000. As Meshbesher wrote in a 1984 column in The Champion, "[i]f the lawyer is required to report the fee payment and the client's name, the client may be exposed to investigation." He noted that the reporting requirement was particularly harsh for clients who were not under arrest or charge, and who only sought legal consultation.
Among his many accomplishments, Meshbesher earned Distinguished Service or Lifetime Achievement Awards from the Minnesota Association of Criminal Defense Lawyers (where he was also a founder and former president), the Minnesota Trial Lawyers Association, and the American College of Trial Lawyers (which is limited to 1 percent in each state). He also wrote the "Trial Handbook for Minnesota Lawyers" in 1992.
In an interview for Super Lawyers in 2010, Meshbesher noted his respect for jurors and the American jury system, saying that "[it] is the most important part of our legal system. To have 12 people from all walks of life, who know nothing about the case, come in and make a decision is the right way to do it."
Meshbesher was such a household name in his community that he is mentioned in Joel and Ethan Coen's movie "A Serious Man," and his office was also used for filming a few scenes.
"The outpouring of respect, admiration, and affection by Ron's contemporaries bears witness to his remarkable legacy and lasting impact on the profession," said NACDL President Rick Jones.
"Ron Meshbesher's impact on his colleagues and NACDL has had an enduring and positive impact on the criminal defense function," said NACDL Executive Director Norman L. Reimer.