Brief filed: 11/28/2011
Documents
State of Florida v. Luke Jarrod Adkins, et al.
Supreme Court of Florida; Case No. SC11-1878, 2011 WL 4925888
Argument(s)
Florida's strict liability felony drug law runs afoul of the Due Process Clause of the Fifth and Fourteenth Amendments to the U.S. Constitution and is inconsistent with centuries of common law.
This is a sponsored ad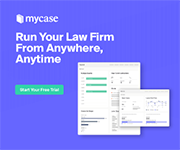 MyCase
Manage Your Law Firm All in One Place
Author(s)
Todd Foster of Cohen, Foster & Romaine, P.A. in Tampa, Fla., David O. Markus of Markus & Markus in Miami, Fla., and Quintin Chatman, Ivan J. Dominguez, Tiffany Joslyn, Jack King, and Norman L. Reimer, all at NACDL.