Brief filed: 09/27/2012
Documents
Salinas v. Texas
United States Supreme Court; Case No. 12-246
Prior Decision
Decision below 369 S.W.3d 176 (Tex. 2012).
Argument(s)
In the case below, the Texas Court of Criminal Appeals held that the Fifth Amendment right against self-incrimination does not apply to pre-arrest, pre-Miranda silence, and therefore such silence in response to police questioning was admissible as evidence of guilt.
If a defendant's pre-arrest silence in the face of police questioning may be admitted as evidence of guilt, the defendant faces a "cruel trilemma." He can answer the police questions truthfully, possibly incriminating himself. He can lie to law enforcement, itself often a crime.3 Or he can remain silent and risk that his silence will be used against him as evidence of his guilt. The privilege against self-incrimination would be hollow if its exercise could be taken as equivalent to a confession of guilt.
This is a sponsored ad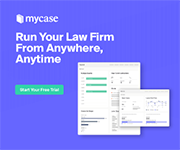 MyCase
Manage Your Law Firm All in One Place
Author(s)
Craig D. Singer and Jared L. Hubbard, Williams & Connolly LLP, Washington, DC, and Jeffrey T. Green, Sidley Austin LLP, Washington, DC.