Brief filed: 09/18/2009
Documents
Pottawattamie Cty. v. McGhee
United States Supreme Court; Case No. 08-1065
Prior Decision
Case below, 547 F.3d 922 (8th Cir. 2008).
Argument(s)
As a matter of policy as well as precedent, absolute immunity should not be extended to shield from civil liability prosecutors who function side by side with police detectives during the investigation of a crime to frame a 'suspect' by fabricating 'evidence' and then give that 'evidence' its intended use by introducing it at a criminal trial. Petitioners do not enjoy qualified immunity for fabricating evidence during the investigative stage merely because they, instead of another prosecutor, presented that evidence at trial.
This is a sponsored ad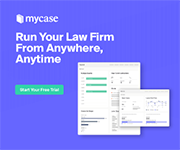 MyCase
Manage Your Law Firm All in One Place
Author(s)
Joel B. Rudin, New York, New York.