Brief filed: 11/24/2008
Documents
Montejo v. Louisiana
United States Supreme Court; Case No. 07-1529
Prior Decision
Case below 974 So.2d 1238 (La. 2008)
Question Presented
When an indigent defendant's right to counsel has attached and counsel has been appointed, must the defendant take additional affirmative steps to "accept" the appointment in order to secure the protections of the Sixth Amendment and preclude police-initiated interrogation without counsel present?
Supplemental briefing ordered 3/30/09: Should Michigan v. Jackson, 475 U.S. 625 (1986), which held that that if police initiate interrogation after defendant's assertion of his right to counsel at arraignment or initial appearance, any subsequent waiver of the right to counsel during police interrogation is invalid, be overruled?
Argument(s)
This is a sponsored ad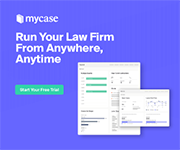 MyCase
Manage Your Law Firm All in One Place
Author(s)
Jonathan L. Marcus, Anna E. Lumelsky and Gary Feldon, Covington & Burling, Washington, DC, filed 4/14/09.