Brief filed: 06/26/2006
Documents
Lawrence v. Florida
United States Supreme Court; Case No. 05-8820
Argument(s)
An application for state post-conviction or other collateral review is "pending" under the Antiterrorism and Effective Death Penalty Act (AEDPA), 28 U.S.C. § 2244(d)(2), while the U.S. Supreme Court is deciding whether to grant certiorari review of the case. Even if the statute is unclear, any ambiguity should be decided in favor of the petitioner.
This is a sponsored ad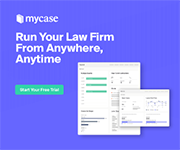 MyCase
Manage Your Law Firm All in One Place
Author(s)
Matthew M. Shors, Charles E. Borden and Steven E. Swaney, O'Melveney & Myers LLP, Washington, D.C.