Brief filed: 10/09/2008
Documents
Knowles v. Mirzayance
United States Supreme Court; Case No. 07-1315
Prior Decision
Case below unpublished (9th Cir. 05-57102)
Argument(s)
28 U.S.C. § 2254(d) requires that a federal court decide whether a habeas petitioner's federal claim was fully adjudicated "on the merits" in state court; it has never been applied, as in this case, to a summary, unexplained state court decision. Respondent's trial counsel's last-minute decision to forego his insanity defense was objectively unreasonable, and respondent's ineffective assistance of counsel claim should prevail.
This is a sponsored ad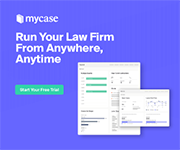 MyCase
Manage Your Law Firm All in One Place
Author(s)
John H. Blume and Keir M. Weyble, Cornell Law School, Ithaca, NY.