Brief filed: 02/08/2008
Documents
Indiana v. Edwards
United States Supreme Court; Case No. 07-208
Prior Decision
Opinion below, 866 N.E.2d 252 (Ind. 2007)
Question Presented
May states adopt a higher standard for measuring competency to represent oneself at trial than for measuring competency to stand trial? Brief argues for a return to the common law competency standard, that if an unrepresented defendant is not able to present a reasoned defense due to mental infirmity then he is not competent. In the alternative, the Court should permit states to appoint an attorney to represent mentally-infirm defendants whose competency to stand trial is dependent upon the assistance of counsel. The Sixth Amendment right of self-representation is not absolute, and protecting the right to a fair trial of defendants who would be deemed incompetent under the common law standard is an appropriate reason for recognizing an exception to it.
Argument(s)
This is a sponsored ad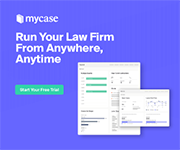 MyCase
Manage Your Law Firm All in One Place
Author(s)
Kevin P. Martin, Abigail K. Hemani and Dahlia S. Fetouh, Goodwin Proctor LLP, Boston, MA.