Brief filed: 12/15/2014
Documents
Henderson v. United States
United States Supreme Court; Case No. 13-148
Prior Decision
Decision below 555 Fed.Appx. 851, C.A.11 (Fla.), January 28, 2014 (NO. 12-14628).
Argument(s)
The due process clause and 18 U.S. C. § 924(d) require that a firearm be subject to forfeiture to extinguish ownership. The statutory history of § 922(g) does not suggest any intent to allow deprivation of ownership interest without any process. Section 924(d) explicitly distinguishes between an "owner," a "possessor" and a "delegate." Ability to transfer possession to a third party is consistent with the fact that a disability may be temporary. Like forfeiture, permanent retention of firearms may be an excessive fine under the Eighth Amendment.
This is a sponsored ad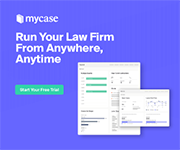 MyCase
Manage Your Law Firm All in One Place
Author(s)
Stephen P. Halbrook, Fairfax, VA; Jonathan D. Hacker, Washington, DC.