Brief filed: 03/04/2008
Documents
Giles v. California
United States Supreme Court; Case No. 07-6053
Prior Decision
Opinion below, 152 P.3d 433 (Cal. 2007)
Question Presented
Whether a defendant forfeits his Sixth Amendment right to confrontation if the defendant kills the witness, even if the defendant did not cause the witness's unavailability for the purpose of preventing the witness from testifying. The defendant admitted killing his girlfriend but claimed he acted in self-defense, testifying that she was a violent person who had shot another man and had threatened people with knives. To prove that the killing was premeditated, the state introduced statements the decedent has made to police officers weeks earlier accusing the defendant of threatening and assaulting her on another occasion; the court admitted the statements under a statutory hearsay exception for certain "trustworthy" statements of unavailable witnesses.
Argument(s)
This is a sponsored ad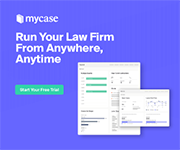 MyCase
Manage Your Law Firm All in One Place
Author(s)
Jeffrey A. Lamken and Robert K. Kry, Baker Botts LLP, Washington, DC and Kennon L. Peterson, Baker Botts LLP, San Antonio, TX.