Brief filed: 11/16/2012
Documents
Gabelli v. Securities and Exchange Commission
United States Supreme Court; Case No. 11-1274
Prior Decision
Decision below 653 F.3d 49 (2nd Cir. 2011).
Question Presented
Where Congress has not enacted a separate controlling provision, does the government's claim first accrue for purposes of applying the five-year limitations period under 28 U.S.C. § 2462 when the government can first bring an action for a penalty?
Argument(s)
The statute of limitations in government penalty actions is not extended by a discovery rule. The Second Circuit's rule will hamper the ability of individuals and corporations to arrange their affairs. And repose for penalty actions supplies an important check against abuses of enforcement power.
This is a sponsored ad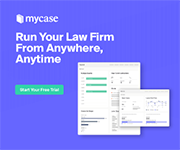 MyCase
Manage Your Law Firm All in One Place
Author(s)
Paul R. Q. Wolfson, Shirley Cassin Woodward, Wilmer Cutler Pickering Hale and Dorr LLP, Washington, DC; Joshua L. Dratel, New York, NY.