Brief filed: 01/17/2014
Documents
Farrow v. Lipetzky
9th Circuit Court of Appeals; Case No. 13-16781
Prior Decision
Decision below Case No. 12-cv-06495-JCS (Hon. Joseph C. Spero), 2013 WL 4042276 (N.D. Cal. Aug. 7, 2013).
Argument(s)
A criminal defendant has a fundamental constitutional right to appointed counsel at any 'critical stage' of the proceedings against him. The defendant's first appearance before a magistrate can result in substantial prejudice to the defendant's rights. California's initial appearance is a 'critical stage' requiring the presence of appointed counsel.
This is a sponsored ad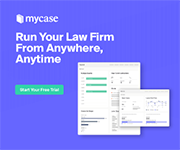 MyCase
Manage Your Law Firm All in One Place
Author(s)
Gia Cincone, Kilpatirck Townsend & Stockton LLP, San Francisco, CA; David Porter, Sacramento, CA.