Brief filed: 12/22/2005
Documents
Davis v. Washington
United States Supreme Court; Case No. 05-5224
Argument(s)
Alleged victim's "excited" statements to a 911 operator naming her assailant constituted "testimonial" statements subject to the Confrontation Clause restrictions enunciated in Crawford v. Washington,541 U.S. 36 (2004); amici urge the Court to adopt a "bright line" rule requiring confrontation at trial for all accusatory statements made to 911 operators, who act as agents of the police when interviewing callers. See also Hammon v. Indiana, No. 05-5705 ("excited utterance" to responding officer).
Coronavirus Resources
NACDL to Focus on Service and Support for Members, Clients, and Community Throughout Virus Emergency
Learn More
This is a sponsored ad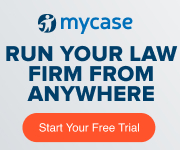 MyCase
Manage Your Law Firm All in One Place
Author(s)
Timothy P. O'Toole, et al.