Brief filed: 01/26/2010
Documents
Berghuis v. Thompkins
United States Supreme Court; Case No. 08-1470
Prior Decision
Decision below 547 F.3d 572 (6th Cir. 2008)
Argument(s)
Prior to a 2 ½ hour interrogation, Thompkins was read his Miranda rights and acknowledged that he understood them. Although he did not formally invoke his right to remain silent, he remained virtually silent throughout questioning until finally a detective testified that he asked Thompkins whether he had asked God to forgive him for "shooting that boy down," and he answered "yes." Brief argues that Thompkins effectively invoked his right to remain silent by remaining silent during the interrogation and that any "implied waiver" of that right must occur much more quickly than the purported waiver on these facts.
This is a sponsored ad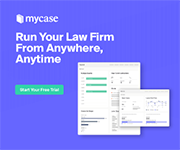 MyCase
Manage Your Law Firm All in One Place
Author(s)
Jonathan L. Abram, et al., Hogan & Hartson LLP, Washington, DC.