Brief filed: 01/28/2011
Documents
Ashcroft v. Al-Kidd
United States Supreme Court; Case No. 10-98
Prior Decision
Decision below 580 F.3d 949 (9th Cir. 2009).
Argument(s)
The material witness statute, 18 U.S.C. §3114 provides for the arrest and detention of witnesses only when absolutely necessary and for the limited purpose of securing their testimony when material to a criminal proceeding. The statute does not provide for the detention of persons suspected of criminal conduct – but against whom there is insufficient proof to meet the constitutional requirements for arresting or charging criminal suspects – in order to conduct further investigation. In this case, the Department of Justice misused the statue to arrest and detain the plaintiff, a native-born U.S. citizen. The plaintiff (and others) was arrested in the manner of a dangerous criminal suspect (except without Miranda warnings), subjected to coercive custodial interrogations about his own activities without counsel, detained for 15 nights in high-security prisons with convicted criminals, routinely shackled and strip-searched during his detention, and released subject to restrictive conditions. If the DOJ truly viewed the plaintiff as a witness, it could have subpoenaed him or deposed and released him, as provided by the statute.
This is a sponsored ad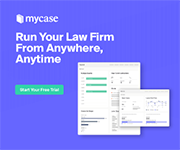 MyCase
Manage Your Law Firm All in One Place
Author(s)
Joseph F. Tringali, Ryan A. Kane, Fadi Hanna, Greg Szewczyk, Simpson Thacher & Bartlett LLP, New York, NY.