Independent Board (6)
Alabama*
Connecticut
Georgia
Idaho*
South Carolina*
Utah
Shared Power (20)
Governor on Board (4)
Florida
Minnesota
Nebraska
Nevada
Gatekeeper Board (9)
Arizona
Delaware
Louisiana
Massachusetts **
New Hampshire
Oklahoma
Pennsylvania
Rhode Island **
Texas
Advisory Board (8)
Alaska
Arkansas
California ***
Kansas
Michigan
Missouri
Montana
Ohio
Consultation Authorized by Law (21)
Colorado
Hawaii
Illinois
Indiana
Iowa
Kentucky
Maine
Maryland
Mississippi
New Jersey
New Mexico
New York
North Carolina
North Dakota
South Dakota
Tennessee
Vermont
Virginia
Washington
West Virginia
Wyoming
No Formal Advisory Process (5)
District of Columbia
Federal System
Maine
Oregon
Wisconsin
Notes
* In Alabama and South Carolina the governor remains responsible for clemency in capital cases, and in Idaho the governor must approve the board's decision to pardon certain serious crimes.
**In Rhode Island, the senate must advise and consent to every pardon. In Massachusetts the Executive Council must approve.
*** In California, the governor is required to consult with the parole board and seek approval of the state supreme court in recidivist cases only.
This is a sponsored ad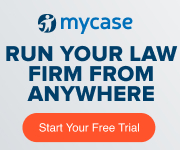 MyCase
Manage Your Law Firm All in One Place