Access to The Champion archive is one of many exclusive member benefits. It's normally restricted to just NACDL members. However, this content, and others like it, is available to everyone in order to educate the public on why criminal justice reform is a necessity.
Grace and Justice on Death Row: The Race Against Time and Texas to Free an Innocent Man
By Brian W. Stolarz
Skyhorse Publishing (2016)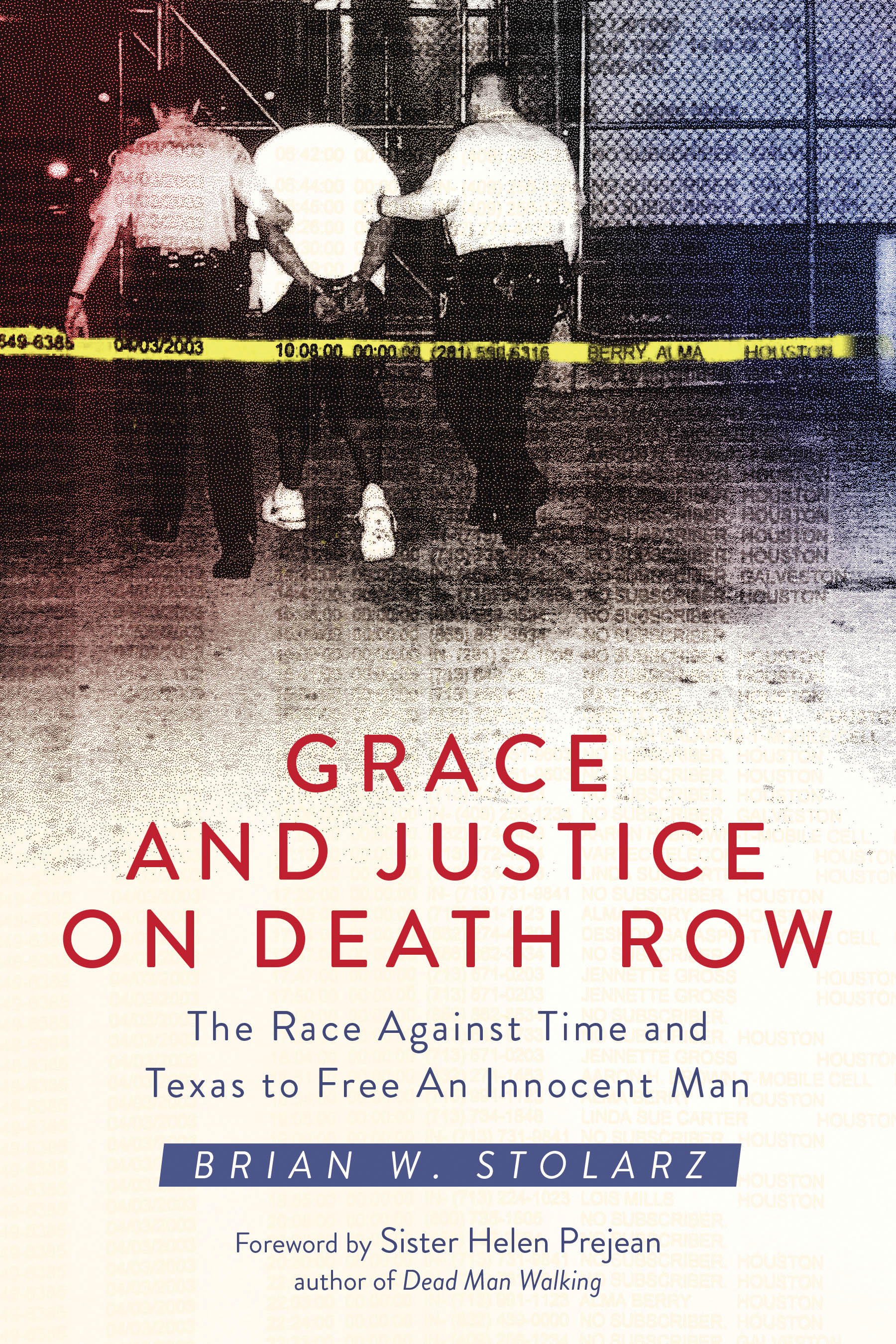 No good deed goes unpunished. That's especially true for members of the criminal defense bar. So why do we do it? Because some of us, especially Brian Stolarz, have faith that there is a reward greater than money and the faith that doing the right thing, regardless of the consequences to you personally, will ultimately turn to good for those that believe. Mr. Stolarz repeatedly references his religious, Catholic upbringing in the book and his reliance on prayer. A true believer, he has three powerful weapons at his disposal:
Faith in his God and the love of his family.
Unwavering inner strength and resilience.
Personality plus and the smarts to go with it.
He needs all of these weapons to attempt to win the freedom for a wrongly convicted death row inmate, Dewayne Brown, whom he refers to throughout the book as his brother because he felt a kinship right away. He knew from the minute he met Brown, a poor African American Houstonian who was intellectually disabled, that he was innocent. Allegedly, Brown and two others robbed a check cashing store and in the process, shot and killed a Houston police officer as well as a young woman. The officer was a 20-year veteran, and the woman had recently returned to work from maternity leave. However, a combination of questionable testimony and prosecutorial misconduct led to his unjust conviction — a tale too often heard.
Stolarz felt compelled to write this book after finally winning freedom for Brown after years of relentless investigation by a dedicated team. He wanted to tell the world why the death penalty was losing its popularity and ask death penalty advocates to take a "second look" at it through the prism of Brown's plight.
He also stresses that "pervasive prosecutorial misconduct" is a cause of the recent unpopularity of the death penalty. In this case, the Assistant Harris County DA, Dan Rizzo, charged a key witness, Brown's girlfriend, with perjury after she confirmed in her grand jury testimony Brown's alibi that he was at her home the morning of the crime. The DA also asked for a high bail, which separated the witness — a single mother — from her four children. She testified the way the State wanted her to and then was released. Other witnesses were pressured to give the State's preferred version of the facts. Improper arguments were made by the State in closing argument. When Stolarz went to his first court hearing, he overheard a young DA ask for an execution date. "There will never be an execution date in this case," Stolarz said. The DA responded, "Good luck with that. This is Texas." That only served as inspiration for Stolarz to do all he could to free Brown.
Predictably, the trial was not fair. Unreliable testimony from witnesses who were pressured to change the facts was admitted and testimony regarding a crime that Brown had nothing to do with, but was accused of, sealed his fate. The State also proffered very weak and unsubstantiated evidence that Brown participated in a prior robbery, which helped the jury vote in favor of the death penalty. The testimony by Brown's former teachers and family members, describing him as a "gentle giant," had little effect. Two experts testified that he had a very low IQ, one saying he was in the bottom two percent of the nation in intellectual development. This too seemed to have little effect. The State's highest court, the Court of Criminal Appeals, found that the prosecutor made improper arguments but confirmed the conviction because of "certainty of conviction."
Mr. Stolarz put quite a team together for his state habeas petition. He had the luxury of two associates from his firm, K&L Gates, as well as seasoned death penalty counsel from Texas and an investigator from Harris County. The work was serious and exhausting, but they made it fun when they could. Mr. Stolarz describes the emotional pain after his first visit-up at night, tears and recurring self-doubt.
The team went through mounds of paperwork, and finally concluded that Brown was not the third man in the robbery. Unbelievably, a friend from Brown's neighborhood — who knew him and knew the truth about the robbery — wrote a letter to him identifying the third co-conspirator. But Brown could not read. He gave it to his trial counsel, and they did not investigate it. The letter languished in the bottom of a box. After reviewing the letter, Stolarz knew who the real third man was at the robbery. He visited all the trial witnesses and got the key ones to recant their coerced testimony and write affidavits about the truth. A key piece of evidence that contradicted the State's case, landline phone records that confirmed Brown was at his girlfriend's home at the time of the crime, was found in the garage of a Houston Police Department officer (whose wife was a Harris County DA), post-appeal, and given to the team. Things came together. Affidavits were submitted. Candles were lit. The trial judge submitted his opinion to the Criminal Court of Appeals, finding that Brown deserved a new trial. It took the court 17 months to agree. The District Attorney decided not to retry the case and Brown was set free.
For the reader, however, this outcome will be bittersweet. Mr. Stolarz had to turn over the case to an associate at the firm because he had spent too many billable hours on the case and the firm that asked him to take on this case effectively told him to move on. He did. The associate saw the case through. New habeas counsel was appointed. When the call came announcing that Brown had been released, Mr. Stolarz immediately flew to Texas to be with his brother. They hugged for the first time. The team took Dewayne Brown back to Louisiana to begin his new life.
Mr. Stolarz ends with the obvious question: How do we stop this from happening again? He suggests abolishing the death penalty, providing more funding for death penalty lawyers, and assisting exonerated inmates rebuilding their lives. In addition, he suggests that prosecutors who engage in Brady violations and other misconduct be investigated, prosecuted and disbarred.
Grace and Justice on Death Row would be ideal for a variety of readers, but especially for first-year law students. So many times in the law there is no happy ending, but there was in this case. Mr. Stolarz shows us through humility, grace, hard work and perseverance that we know that in all things God works for the good of those that love Him, who have been called according to His purpose.
About the Reviewer
Kira West is a criminal defense attorney in Washington, D.C.
The opinions expressed in reviews are those of the reviewers and do not necessarily reflect the opinion of NACDL.