SCJN Electronic Newsletters
This page provides links to NACDL's State Criminal Justice Network's monthly newsletter. It features a snapshot of NACDL's state crminal justice priorities, as well as, recent internal and external criminal justice reports, information on upcoming events, webinars, current state legislative reform efforts, legislative tracking, action alerts and more!
Issues
SCJN News - September 11, 2019
Continue reading below
This is a sponsored ad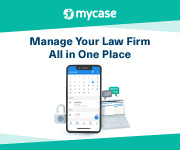 MyCase
Manage Your Law Firm All in One Place
Topics on this Page
Explore these keywords to find related information.