Position Description: Resource Counsel will develop and maintain resources to assist on all substantive and procedural aspects of criminal defense practice, expanding NACDL's existing online resources, with an emphasis on assisting lawyers to identify and litigate potential cases of wrongful conviction. Resource Counsel will work with Senior Resource Counsel on NACDL's collaborations with innocence efforts, conviction integrity units, prosecutorial organizations, and law enforcement to develop training and strategies that enhance efforts to prevent and remedy wrongful convictions.
Training and Assistance
Work with Senior Resource Counsel, in collaboration with NACDL's education department, to develop, organize, and execute training programs.
Respond to direct requests for assistance, information, and materials from NACDL members, other organizations, and the public.
Assist in developing and executing collaborative projects with defense, prosecution, and law enforcement entities to enhance efforts to prevent and correct wrongful convictions.
Communicate with innocence efforts to determine their greatest training, technical assistance, and funding needs, including conducting site visits to those programs if appropriate. Provide targeted resources, training, and support to lawyers who handle post-conviction innocence claims.
Online Resource Development
Collaborate with NACDL's technology team in the continued development of NACDL's new online Resource Center.
Maintain and update those online practice resource areas, including expanding the collection of briefs, motions, decisions, and experts relevant to lawyers handling post-conviction innocence claims.
Qualifications
A J.D. (equivalent work as a paralegal may be considered in place of a J.D.) and criminal defense litigation or post-conviction/appellate work experience.
Demonstrated interest in and commitment to criminal defense issues.
Excellent legal research and writing skills.
Ability to maintain, update, and expand the Resource Center area of NACDL's website, which is a very important benefit to NACDL's members and the legal community.
Ability to work both independently and as part of a team.
Ability to cultivate relationships with outside individuals and legal organizations and collaborate with them to achieve our goals.
About NACDL
NACDL is the preeminent organization advancing the mission of the criminal defense bar to ensure justice and due process for persons accused of crime or wrongdoing. A professional bar association founded in 1958, NACDL's many thousands of direct members in 28 countries – and 90 state, provincial and local affiliate organizations totaling up to 40,000 attorneys – include private criminal defense lawyers, public defenders, military defense counsel, law professors and judges committed to preserving fairness and promoting a rational and humane criminal justice system.
We are pleased to offer our staff a generous benefits package including health insurance, 401(k), paid leave, and professional development support. At NACDL, you'll have the opportunity to work with a dedicated and talented team of experts.
NACDL is proud to be an equal opportunity employer.
Compensation: Salary commensurate with experience and competitive with other not-for-profit associations.
To Apply: Send: 1) cover letter that includes your salary requirements (Please mention any post-conviction and/or forensic evidence experience in your letter.); 2) resume; and 3) writing sample to employment@nacdl.org with the subject line "Resource Counsel Position."
Deadline: Applications will be considered on a rolling basis until the position is filled, therefore applicants are encouraged to apply as soon as possible.
This is a sponsored ad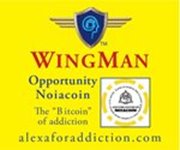 WingMan Opportunity Noiacoin
The "Bitcoin" of addiction