Frequently Asked Questions
Do I have to be a member of NACDL to receive a public defense training scholarship?
Registration scholarships are available to all public defense providers, regardless of membership in NACDL. Membership in NACDL is required for travel scholarships. Non-members of NACDL may be considered for travel stipends, but any travel award made is contingent upon the individual joining NACDL prior to receiving reimbursement. Discounted membership options are available for individuals who register for an NACDL seminar. Please contact Membership Director, Michael Connor at mconnor@nacdl.org, or Public Defense Director Bonnie Hoffman at bhoffman@nacdl.org for more information.
---
If I have received scholarship funds in the past, may I apply for future programs?
Individuals who receive scholarships may be considered for scholarships again in the future, in light of factors such as compelling reasons to attend, extreme financial need, and length of time between applications.
---
May I apply to more than one scholarship for a single program?
Yes, however, you must submit a separate application for each scholarship and make sure you review the requirements for each application to ensure eligibility. To aid our evaluation of your application, please include in your application information about the other scholarships for which you applied.
---
Can I apply for scholarships for non-NACDL programs?
Yes. Any program that is open to defenders from multiple jurisdictions and is not targeted to a single state is eligible for consideration. In order to assist us in our evaluation of your application, you must include information about the organization and the program with your application.
---
I am a head of a defender office and I would like to send several of my attorneys to a training program. Should I apply for scholarships on their behalf or do they need to complete applications on their own?
Attorneys should complete their own scholarship applications. Each application is evaluated on an individual basis. The head(s) of the office and/or supervisors are welcome to provide supporting documentation to supplement the applications.
---
How can I find out if there are still scholarship funds available for a particular program?
NACDL does not set aside a specific number of scholarships or a specific dollar amount of assistance for any programs. However, as our scholarship funds are limited, we do adhere to previously determined spending guidelines for a program. If you have questions about whether there may still be funding available for a particular program, please email us at pdtscholarship@nacdl.org.
Continue reading below
This is a sponsored ad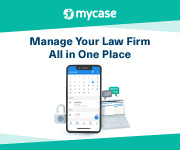 MyCase
Manage Your Law Firm All in One Place
---
Are scholarships available for public defense support staff, such as investigators, mitigation specialists, or social workers?
While NACDL recognizes and values the contribution that non-attorney personnel such as investigators, mitigation specialists, and social workers make to public defense services organizations, we can only provide scholarship assistance to licensed attorneys.
---
What documentation do I need to supply to receive my scholarship reimbursement?
All scholarship recipients must return training evaluations that are provided to them. To receive tuition/registration reimbursement, you will need to provide a copy of your registration receipt as well as proof of attendance (CLE certificate or other confirmation of attendance signed by conference staff). If you received a travel scholarship, you must also provide your hotel and transportation receipts showing the amount paid.
---
What expenses can be reimbursed?
Registration fees and travel costs will be reimbursed up to the maximum amount of your scholarship, and is limited to the actual amount you have paid. Scholarship amounts that exceed the actual amount you have paid may not be used towards other expenses.
The following expenses are NOT able to be reimbursed through your travel scholarship:
Travel and/or lodging paid for through the use of points, gift certificates, or other non-monetary means
Meals
Auto rental
Local transportation expenses (taxi, etc.)
Travel expenses of spouse or other guest
Valet/laundry service, gift shop, health club, movie/pay per view charges
Travel at any rate higher than coach fare
Limousine/sedan/car service

---

If you have questions about the travel scholarship, please email us at pdtscholarship@nacdl.org.