The National Association of Criminal Defense Lawyers (NACDL) seeks a Project Manager for its public defense department.
About Us
NACDL is the preeminent organization advancing the mission of the criminal defense bar to ensure justice and due process for persons accused of crime or wrongdoing. A professional bar association founded in 1958, NACDL's many thousands of direct members in 28 countries – and 90 state, provincial and local affiliate organizations totaling up to 40,000 attorneys – include private criminal defense lawyers, public defenders, military defense counsel, law professors and judges committed to preserving fairness and promoting a rational and humane criminal justice system. For more information about our organization, please visit www.nacdl.org.
NACDL is pleased to provide staff with a generous compensation and benefits package. NACDL affords the successful candidate an opportunity to work with a dedicated and talented team of experts.
Overview
NACDL is seeking a Public Defense Project Manager. Primary responsibility will be the successful management of deliverables under NACDL's Justice For All grant awarded by the Bureau of Justice Assistance. The objective of the grant is to share resources, knowledge, and practices that will support jurisdictions' efforts to meet their Sixth Amendment obligations. Read the project abstract.
Responsibilities will include a full range of programmatic, technical, and organizational duties, including working with the grant's primary sub-grantee partners.
Qualified candidates will possess a college degree and at least 5 years of relevant work experience with a preference for a J.D. or at least 3 years of experience in criminal justice. Ideal candidates will have prior experience administering grant funded projects and familiarity with federal grant procedures and requirements.
Essential Functions and Responsibilities
Primary responsibility for overseeing NACDL's obligations under the Justice For All grant
Identify and collaborate with subgrantees and subject matter experts to support short-term (on demand) and long term (in depth) training and technical assistance (TTA) and development of substantive materials on Sixth Amendment issues.
Identify, build, and manage relationships with potential partner organizations
Draft and maintain content for a web platform that will meet the needs of various system stakeholders and the general public.
Evaluate and manage contracts for grant consultants, contractors, and subject matter experts.
Create and adhere to budgets for various project components
Oversee the development of relevant educational content
Plan and execute a national summit highlighting work undertaken in connection with the grant
Work closely with BJA grant staff on substantive and administrative components of grant
Make presentations about the grant and grant related projects
Ensure compliance with all grant reporting requirements
Monitor workflow to meet grant related deadlines
Work with NACDL's Public Defense Team and other NACDL Staff to fulfill grant deliverables
Qualifications and Experience
Qualified candidates will possess strong organizational skills and be comfortable with learning and using new technology. Ideal candidates will have a demonstrable interest in criminal or social justice issues either through professional experience, academic studies, or community activities.
Mandatory qualifications include:
College Degree, J.D. preferred
5 years of relevant work experience
Other qualifications include:
Experience and knowledge of grant management, particularly with government grant experience
Ability to create and manage budgets
Effective task prioritization time management skills, and attention to detail
Excellent written, verbal, and interpersonal communication skills
Familiarity with core Sixth Amendment provisions and current issues in criminal justice
Demonstrated interest in criminal justice reforms
Experience in a non-profit, government, or criminal justice environment
Ability to work well with NACDL's leaders, members, staff and allies
Demonstrated ability to cultivate relationships with a broad cross-section of criminal justice system stakeholder groups
Ability to work both independently and as part of a team
Willing to travel domestically
Proficient with Microsoft Office, especially Excel and PowerPoint
The grant period is currently underway and will conclude no earlier than September 30, 2022.
To apply: Send cover letter, resume and writing sample (5-10 pp.) to bhoffman@nacdl.org with "Public Defense Project Manager" in the subject line. Applicants are also asked to provide a realistic statement of their salary expectation. Applications will be considered on a rolling basis. Position open until filled, but prospective candidates are encouraged to apply as soon as possible.
This is a sponsored ad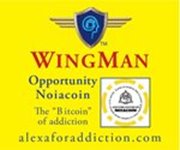 WingMan Opportunity Noiacoin
The "Bitcoin" of addiction