INTRODUCTION TO THE RESOURCE CENTER
The first video in our four-part series covers what's new about the Resource Center, where to find it, and how to search and filter for resources.
INTRODUCTION TO CASE-BASED TOOLS
This video discussed why there is no more brief and motion bank, and what has replaced it. It goes further to discuss all of the great resources you can find in Case-Based Tools, including briefs and motions, journal articles and reports, practice resources, The Champion articles, external resources, and news.
INTRODUCTION TO EXPERTS
This video discusses how Experts are organized and why we have a Full Disclaimer on the Resource Center.
INTRODUCTION TO CONTACTING THE RESOURCE CENTER
Our final video discusses how to reach out to the Resource Center, whether it's to submit materials, recommend an expert, or simply request assistance!
Continue reading below
Coronavirus Resources
NACDL to Focus on Service and Support for Members, Clients, and Community Throughout Virus Emergency
Learn More
This is a sponsored ad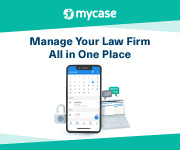 MyCase
Manage Your Law Firm All in One Place